CAREER
>HCH Culture leads the way

HCH Culture leads the way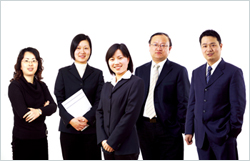 Working together toward common goals makes HCH a great place to work. Every day, we challenge our employees to find better ways of working by fostering a culture that empowers them to make a difference. When HCH individuals improve himself or herself, he or she should be following HCH basic culture.
"Customer Focus":
As our quality policy "Customer's requirement is the drive of the company's development", "Customer's satisfaction is the object of the company." HCH always treat customers' demand as the first point. "How to serve the customer better" is also what HCH individual development should focus.
"Be earnest:
be practical and realistic". HCH sprits encourage our people to be honest, face challenge, and be practical as well as respect each other. We must all ensure that our fellow employees are treated with respect and dignity. You should treat other people the way you wish to be treated yourself.
"Team Work":
it is critical for good results. It ensures that all relevant competencies are involved in the decision-making and dramatically increases the chances of active support and commitment for decisions taken. Therefore the team must consist of people and competencies that are complementary, which in itself promotes a more exciting work climate.
With over 2,500 employees in the different departments, HCH Group's Cultural Communication is a significant part of the company's corporate culture. By providing a constant flow of internal information on our cultural activities, Cultural Communication gives employees a broad palette of offers for their very own recreation. They apply to every single employee at HCH and supports the unique HCH spirit that binds us together as one HCH team. Each employee is required to do his or her regular performance reviews and makes sure the appropriate competence level of their work teams.