CAREER
>Trainee Program in Finance

Trainee Program in Finance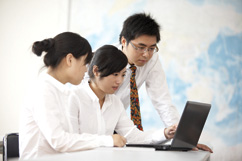 Have you successfully completed your studies in economics, accounting or financial management specializing in finance and would like to put your skills into practice? If this is the case, our Finance Trainee Program is just what you are looking for. Participants can improve their financial management skills through our variety of financial training programs. The program provides the trainee with practical experience through direct exposure to and active participation in a variety of finance activities in preparation for future opportunities at HCH. In addition, our trainee program will be able to give you valuable insight into the world of finance and assist you in your decision process when choosing particular The HCH Finance Trainee Program is a one-year learning experience designed to develop outstanding company-prepared individuals committed to a career in finance.
Process
Within one year, you will gain detailed knowledge in various departments within our Finance sector and will work from the very beginning on specific tasks to selected functions under professional supervision. The tasks are focused on development and relate to the following themes:
● HCH strategies, products, markets and way of working
● Financial accounting
● Management accounting
● Product/Market/Customer profitability
● Treasury and risk management
● Tax issues
The diagram below shows an example of the structure of this program, the contents of which are planned in detail depending on your interests and our current requirements.
Finance Trainee Program
Training section
Topics
Company Information
● Organization of HCH
● Strength of HCH
● Group general information
Basic
● HCH products
● Project management basics
Plant Finance
● Plant controlling
● Accounting and controlling
Accounting Service
● Collaboration on issues relevant to report
● Insight into accounting services
Product Line
● Getting to know the product lineorganization
● Collaboration on issues relevant to finance
from a production line viewpoint.
Treasury
● Working in the HCH Treasury
Tax
● Working in the tax department of HCH
Corporate Controlling
● Controlling methods of HCH
● Strategic controlling of HCH
Trainees will learn functional aspects of finance and business control as well as general business management skills and have the possibility to actively contribute to the planning of their own personal program to best suit their individual interests and development requirements.