Advanced Product Quality Planning
Advanced Product Quality Planning (APQP) is a structured method for defining and executing the actions necessary to ensure a product satisfies the customer. APQP is required of all system, subsystem and component manufacturing locations.
Goal:
The goal of APQP is to facilitate communication with all persons involved in a programme and ensure that all required steps are completed on time, at acceptable cost and quality levels.
Applicability:
APQP is a requirement of all activities and must be applied to the following:
● New Product.
●Changed / modified product.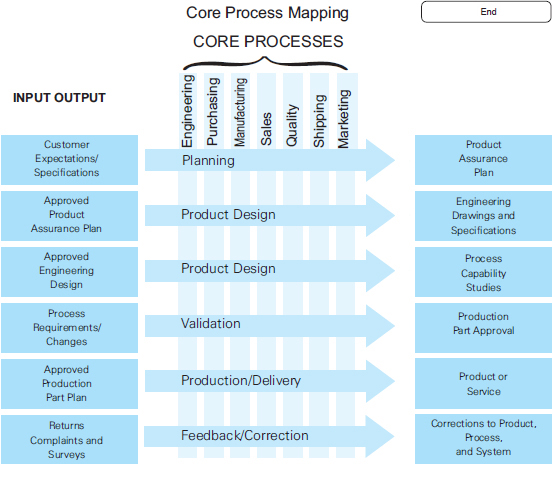 APQP Status Report
The APQP Status Report summarizes the status for the 23 APQP elements. The status report facilitates communication between Suppliers. It also provides a dated record that future programmes can reference.
Team Members

Company / Function

Contact No. / E-mail

Build Level

MRD

Quantity

Concurred

PIST %

PIPC %

No. of SC

No. of CC
APQP El

ements

GYR Status

Focus Element Rating

Program Need Date

Completion Date

Resp. Engineer Initial

Remarks

Sourcing Decision
Customer Input Requirements
Design FMEA
Design Review(s)
Design Verification Plan & Report
Subcontractor APQP Status
Facilities, Tools and Gages
Prototype Build Control Plan
Prototype Builds
Drawing and Specifications
Team Feasibility Commitment
Manufacturing Process Flow Chart
Process FMEA
Measurement System Evaluation
Pre-Launch Control Plan
Operator Process Instructions
Packaging Specifications
Production Trial Run
Production Control Plan
Preliminary Process Capability Study
Production Validation Testing
Production Part Approval (PSW)
PSW Part Delivery at MRD
COMMENTS :
Note:
If the programme is considered to be low risk, the APQP leader may skip certain APQP elements.
Green Yellow-Red (GYR) Status communicates the progress towards the successful completion of an APQP element by the Program Need Date. The Program Need Date is the last possible date an element can be completed and not adversely affect quality or timing of the Program. The "GYR Status" column of the report shows the assessment for each element. Definitions for Green, Yellow, and Red are as follows:
Status

Meaning

Green

Date / quality of the element are not at risk
Start of production is not at risk

Yellow

* Date / quality of the element are at risk
* Start of production is not at risk
* Corrective measures must be defined

Red

* Date / quality of the element not be observed
* Start of production is at risk
* Corrective measures must be defined