For quality department
Information about the position
Quality department provides Qualitative Support to all the departments of our company as to ensure customer satisfaction. It monitors our progress toward our corporate goal of building a culture in which improvement is continuous and an integral part of the organization. Quality department is making efforts to improve quality system continuously to provide the highest quality bearings and services to domestic and international customers. There are two basic functions integrated in QA department.
Quality Assurance covers all activities from design, development, installation, production, transportation, shipment and documentation. This introduced the rules: "fit for purpose" and "do it right the first time". It includes the regulation of the quality of raw materials, assemblies, products and components; services related to production; and management, production, and inspection processes. Quality Control - operational techniques and activities intending to ensure that a manufactured product or performed service adheres to a defined set of quality criteria or meets the requirements of quality standards.
Quality Department at HCH has broad responsibilities and authority in the following areas:
● Quality Improvement--Quality improvement is based on the premise that all work activities can be planned, performed, measured, and improved.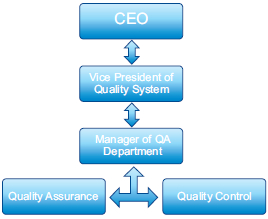 ● Supplier Qualification--Quality department maintains an audit program to verify our suppliers' ability to provide consistent materials that meet our strict quality requirements.
● Document and Record Control--Quality department is responsible for maintaining all documents, records and Standard Operating Procedures, making sure that they are up to date.
● Inspection and Acceptance Testing-- Quality has the authority to release and reject any component or finished product that does not meet specifications.
● Non-Conformances --QA handles the identification, documentation, control, investigation and disposition of all non-conforming materials, components and final products
Qualification
The ideal candidate for this position will possess:
● A minimum of a bachelor degree of science
● 2 years experience in a similar role within a professional office environment
● Strong proficiency with Microsoft Word and Excel
● A great attitude!
● A Familiar with ISO9001, TS16949 is huge pluses