Internal Training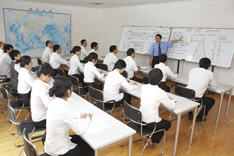 Except for on-the-job training and management training, HCH also supports internal training for all employees in developing knowledge where needed. Examples of such areas are in software skills, languages and presentation skills. There are also other types of training available which are more related to the individuals' role and responsibilities. Moreover, social environment, company knowledge training is also providing as company cultural, quality objective as well as the company development, it is mainly achieved by internal communication.
Based on resourceful education expertise in the school, our corporate internal training program is tailor-made to fit in with specific requirements and it is featured with:
● A short-term expectation to upgrade the corporate managing skills on a full scale.
● A tailor-made concept of conducting the internal training to seek problem-solving methods.
● A dedication to sticking to corporate culture, and helping streamline the corporate managing philosophy.
● A commitment to assisting in consolidating the corporate binding force, propelling both company and its employees to advance.
HCH's approach to internal training is vocational, not academic. Utilizing the latest training techniques, it emphasizes interaction
between participants and builds on their innate creativity.
Moreover, the internal training gives our employees the opportunity to learn from experts and share the recently developed knowledge.
They also enlarge the scope of our young researchers working in a specific field. Researchers involved in other projects are invited learn from and exchange experience with other researchers.
Organization of the courses
Typically, a course extends for three and a half days and includes:
● An introduction to the course by the person in charge (including a visit to facilities whenever relevant)
● few lectures by our internal experienced experts, engineers or managers.
● Question time
● Conclusions and evaluation
The table below gives the list of past and future courses.
| | | |
| --- | --- | --- |
| Title | The principal speaker | Place |
| Basic knowledge of bearing | Xia Shunan | Pacific Bearing Plant |
| Bearing application | Li Guoqiang | Shiyan new factory |
| How to answer frequent questionsasked by customers | Hu Dike | Pacific Bearing Plant |
| Noise and vibration of bearing | Yu Jisheng | Pacific Bearing Plant |