Individual Development
Individual development means making use of all the personal resources at your disposal - talents, skills, energy and time to enable you to achieve both work and life goals. How you manage yourself impacts directly on your individual development. Being self-aware, making the most of your strengths, learning new skills and techniques and developing behavioural flexibility are all key to improving your personal performance. The building blocks of any great company are its people. For HCH to be a world-renowned bearing manufacturer, our people will have to be the best in the business. HCH highly recognized the necessity of steady investment in human resources, especially its individual development.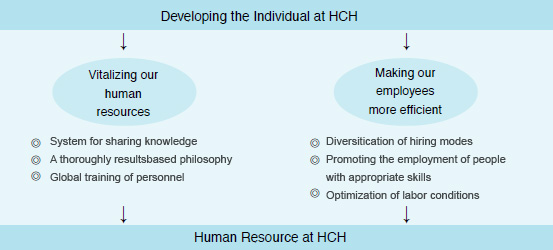 Right after you start at HCH, you will receive the proper introductory training. Supervisors and employees meet regularly for what we call employee development dialogs to agree on development goals and suitable measures to be taken for each employee. To implement the development plans made, we offer a comprehensive further training program as well as other individual and target group specific activities. All employees are entitled to feedback on their performance and to have a development plan. The Leadership and Performance Review are the group tools that are used to give feedback and devise a development plan. During all phases of your professional development, HCH provides valuable support. This gets you ready to face any challenge at any time, professionally, methodically and personally.
Our individual development model describes the competencies individuals must develop to achieve self-mastery and the ability to perform at a high level. Self-mastery involves the ability to utilize the abilities outlines below. Your career goes farther and faster when you invest in your own personal development.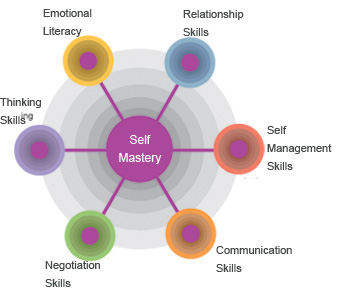 ● Relationships skills deal with the ability to develop productive and mutually beneficial relationships with others.
● Self-management skills deal with factors such as the ability to set goals, manage time, maintain focus, solve problems and sustain effort in a chosen direction.
● Communications skills deal with the abilities to engage people, present ideas, listen, influence outcomes and deal with difficult situations.
● Thinking skills involve the ability to recognize patterns, analyze problems, develop and evaluate alternatives make decisions and focus on what's important.
● Negociation skills deal with aligning organizational structures and groupings around workflow.
● Emotional literacy involves the ability to recognize and utilize
emotions in self and others.