Graduates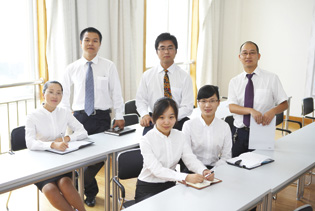 Are you interested in entering a career at HCH? Are you a graduate who wishes to enter a career directly, without giving up your ambitions? Then the HCH Group is precisely what you are looking for! As a graduate, you will be provided with training and development opportunities, an attractive remuneration package, and a secure, diverse and supportive workplace. The HCH Group offers graduates a wide variety of possible apprenticeship training positions.

Entry Opportunities for Graduates
HCH prides itself on being an agile organization, offering graduates hundreds of career opportunities. There are always opportunities to work in HCH various departments. HCH is always seeking graduates to fill various positions within the different department. We promote motivated university graduates with a maximum of 3 years occupational experience through the entry and promotion program. These are, of course, predominantly technology-oriented apprenticeships providing a very broad spectrum. But the HCH Group also offers very attractive training prospects in IT-related jobs and many other non-technical vocations. In addition, there are a variety of continuative and advanced vocational training programs that offer employees the chance to acquire optimal qualifications. The program is aimed at developing and broadening your skill base to assist with career progression.
Why graduates matter to us?
With many quick-thinking innovators and excellent employees leading the business at HCH, why is there still the need for graduates? Because the fresh thinking and contribution of graduates is a big part of our company's culture and it is fully supported by our supervisors. We believe that graduates' innovative thinking and active performance will improve the development of the company. From the factor, recent graduates and current students already did a lot to contribute to our organization, providing knowledge, innovative ideas and fresh perspective on our business.
Why do graduates choose HCH?
Whether you are just beginning your career or ready for the next step, HCH offers you opportunities second to none to build a strong foundation and prepare for a successful future. Also, HCH is a place where you can make your mark because it is a company that makes a difference, in technology, industry and the communities where our associates live and work. We value and reward innovation and performance through competitive compensation, benefits, ongoing training and enrichment, and long-term career development. In addition, our company strives to contribute to higher quality, more comfortable lifestyle by providing truly valuable products and services. All these have attracted many graduates to choose our company and work here.